Pawan Kumar, Yogi at Soneva Fushi and Soneva Jani, Maldives
Q1: Tell me about your background – how did you become a Yogi?
I come from a traditional Hindu family in the Himalayan region of India, and I am married with an eight-month old baby boy. I studied yoga at many ancient Indian ashrams with numerous Yoga Masters. I also have a Master of Science degree in Yogic Science.
Since my childhood, I was brought up surrounded by spirituality. Growing up, I was always interested in the religious and spiritual rituals that were practiced in my home on a daily basis. My mother was my first teacher who taught me to have faith in God and initiated me into some spiritual practices, like Mantra Yoga.
Later, as I became an adult, I realised that I was missing something within. It was then I met a Yogi who has asked me to study yoga and teach it as a lifestyle. That is when I began my own personal yoga journey and became a Yogi myself.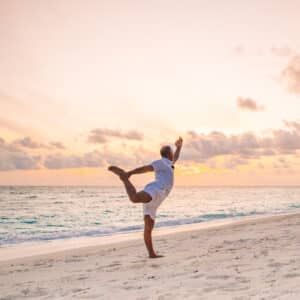 Q2. What different types of yoga do you teach?
I teach and train people in traditional Hatha Yoga, Mantra Yoga, Vinyasa Yoga, meditation and yogic cleansing practices.
Q3.What does a typical day look like?
In general, my day is quite normal. I try to keep myself busy with work, maintaining my awareness to an optimum level to stay mentally and emotionally balanced.
Q4:What do you like to do when you are not working?
When I am not at Soneva teaching yoga to our guests, and I am back in India, I live in a village with a farming background. When I am there, I keep myself busy with daily farming tasks. I am also a passionate gardener and I love connecting with the earth. I enjoy travelling to new places, especially if it allows me to spend time with nature – sometimes I go to the mountains and take long walks into the forest.
Q5: What are your tips for a healthy lifestyle?
(1) Get up early in the morning and drink two glasses of lukewarm water, mixed with a little honey or lemon.
(2) Do some yoga and a little exercise to get your body moving.
(3) Eat more fresh vegetables and fruits to give you more energy. Avoid eating processed foods where possible.
(4) Laugh as much as you can. Keep smiling!
(5) I recommend that you meditate for at least five minutes a day. Make it mandatory. Mental and emotional health is just as important as physical health, and meditation really helps with this.
 Q6: What are your tips for a balanced life?
Moderation is the key to a balanced life: try to be moderate in every aspect of your life.
Q7: If someone has not meditated before, how would you advise them to start?
One should start with a simple breathing technique to concentrate the mind. Begin by observing your slow, deep, rhythmic breathing for five to seven mins in a meditative pose, sitting either in a crossed-leg position or on a chair with your back upright. Keep your mind involved as you constantly observe your deep, rhythmic breathing. Continue to practice this for a few days and your breathing technique will help your mind to remain aware of itself: still, steady and focused. The more you do this, the more comfortable you will become with meditating.